Outdoor Photos
---
This is a place where OUR Hunting Community can share their Trophy with the WORLD. If you would like to share a picture with us over the Internet, please attach it to an email and send to gefferts@comcast.net include your First name, the first letter of your last name , the city and state you live in, where the trophy was taken , the date it was taken and any other information you might like to add. You will be notified when your picture is posted. If you prefer to use snail mail. Please send your picture with the above information(including your email address) to .
Outdoor Photos, 164 Girard Ave., Plymouth, PA 18651-2226
If you would like your picture returned, please send a self addresses stamped envelope.
---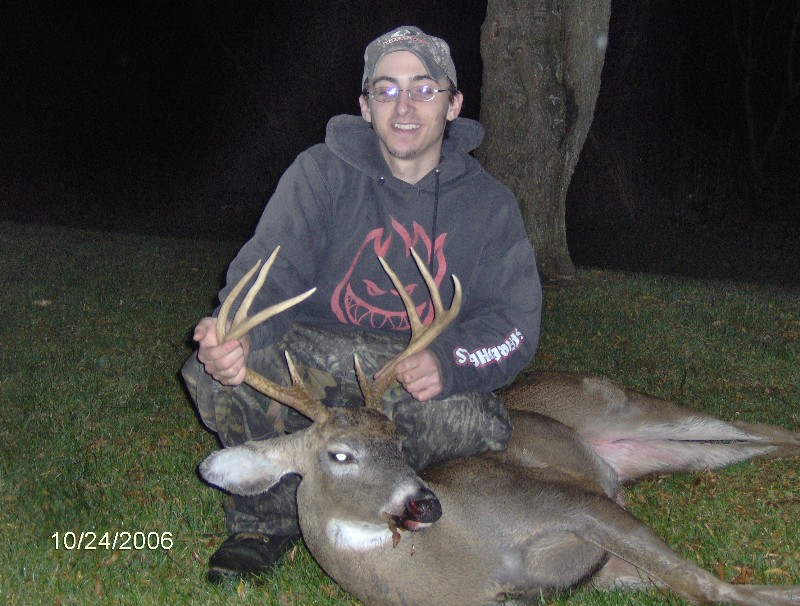 It was my second season of archery hunting, and I past up plenty of does looking to shoot my first Buck with my bow. It was late October this year in Pennsylvania and I spotted a six pointer and blew my chances of shooting it from my tree stand, but I didnít give up. With my hopes all up high I headed back to my tree stand a few days later that week , it was a misty rainy day and as I sat in my stand up high, I heard something coming from the hillside to my left, at first I didnít know what that noise was so I sat there waiting to see if it was the buck that I spotted a few day earlier and to my surprise it turned out to be another buck . When the buck picked up his head my heart stopped a beat, this buck was bigger then what I thought. He walk right underneath my stand and I stopped him within a ten yards from me and the Muzzy broadhead and my Mathews switchback did the rest of the work. I guess all the hard work of practicing and sitting in the woods all paid off. This is the second buck I ever shot, but my first with a bow. Boy what a GREAT FEELING!!! Thanks for letting me share my experience. Matt M
---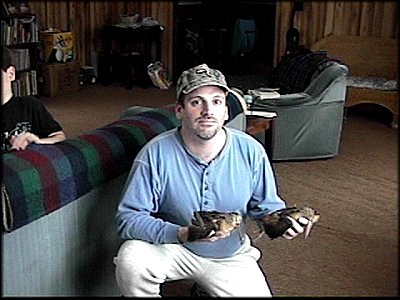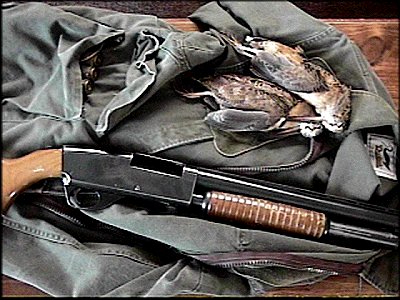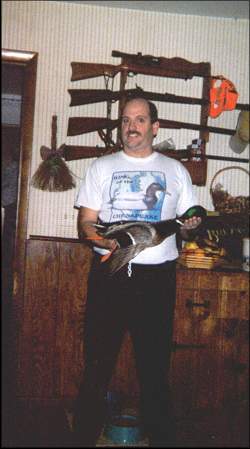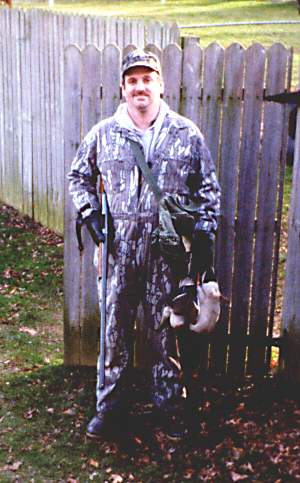 Here's a few bird hunting pics. The picture of me with the 2 woodcock was taken in January of 1998. I shot them both on a snowy Friday morning in a favorite secret thicket on the Eastern Shore of Maryland, in Kent county. Ditto for the pic of them with the gun. The duck one was December of 1998, and I took both those Mallards with one shot in Kent county Maryland. The ducks are black ducks, and I took them in December on public land in Kent county Maryland2 hunting in flooded timber. The smaller birds with me are woodcock, and I also took them on public land in Kent county Maryland last january 1999 in my favorite thicket. The darake mallard I took New Years Day, also in Kent on public land. He's absolutely perfect - like from a book! He's up at the taxidermists. Looking forward to seeing everyone elses'! Paul.
---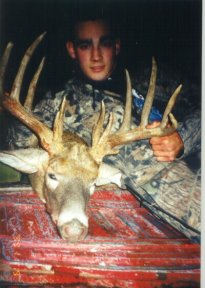 Josh McAlister from Parkville, Missouri
I killed this deer on in northern missouri on my Grandpa's farm on november 19 1999. The hunt was great i was setting on the stand by 1 pm and switched to another stand at about 4, because i knew how the deer were moveing and it was windy, so i moved to a stand i had on a small creek with woods to my back and sides and with a open hillside in front of me. After being on the stand for 20 min, i seen a couple of does about 50 yards off, I had 2 doe tags, but knew how there was a buck near by and did not want to scare him away. Within 5 minutes of seeing them does, i heard a stick break and sure enough as i look to see what is was this monster was coming, he jogged right under my stand, and i was afraid to shoot him so close, because i have heard of people missing deer because there guns were sighting for further shooting. SO i let him go about 45 yards on the hill whistled at him, and dropped him with no movement at all with my 270 win. He weighed well over 300 pounds, 17 points. I have have never seen this deer i shot but i found his sheds from 98, along with 2 other deer sheds who were bigger than this deer! I can't wait until next season to see what's to come.
---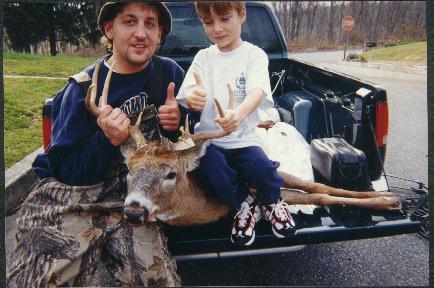 John Z., Carbon County ,Pennsylvania. Mathews Bow, 57 grain Rocket Broadhead, ACC arrows, chasing does , 35 yard shot(double lung), Deer ran about 60 yards.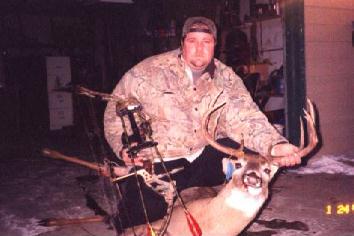 This is my late season buck he is a 10 pointer with a 18 inch inside spread.I am in wisconsin the temp was 5 above and windchill was 30 below..I got the shot at 4pm the deer went about 100 yards.I shoot the new Fred Bear split limb.with xx75s 2315s and 100 grain open on impact spitfires.It was a double lung hit quartering away at 20 yards.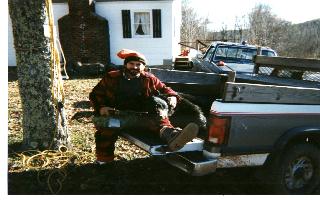 Here is a picture of my bear. I took on Opening day of the season. It was a 14 year old female. Taken By Joe Lupinacci in NY. I had a full mount made from it.
---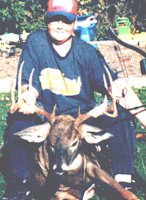 Richard Bartholomew, Hawkestone Ontario. In 1998 my first year hunting I got a 10 point buck with my bow. I was 16 at the time.I shot it with a golden eagle bow at 25 yds. It was the 6th day of my hunt and the 6th deer I saw. It scored 142 1/2 pope and young and is now on my wall!
---
---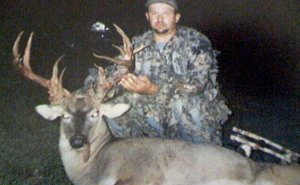 I shot this big buck on Sept. 16 2000 in Ky. with my bow at 18 yards, it has 33 points, 24 of them scored, it field dressed at 178lbs and scored 201 in the green. Thanks, Mike D.
---

My name is Bill J. I reside in W. St. Paul, Mn. I shot this buck on Oct. 23, 2000 in Hugo Minnesota. He was following a doe into the brush about 50 yards away. I knew I would never get a shot so I grunted,twice, and he came down the trail to me. I put a Thunderhead 125 broadside through both lungs at twenty yards. He ran 50 yards and went down. He field dressed at 212 lbs. He has a 22 outside spread and green score of 143 2/8. My bow is an old Proline Force II Magnum set at 62 lbs. I was also using Still Steaming Doe-in-Estrus pee.
---

Doug T., Goodfield, Illinois 200 lbs, 9 points, Nov. 30, 2000.
---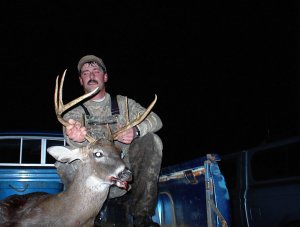 This buck was taken in North Carolina in Pender County. He was an 8 point with an 16 in. inside spread. Taken by Craig D.on 12/9/2000.
---
---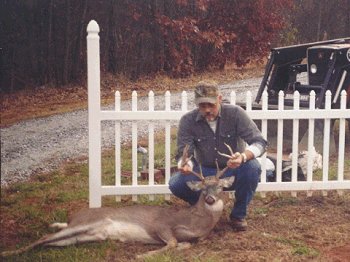 I took this 8 point buck on Thanksgiving morning at 75 yards with a Win. 30-30, It was my first deer. Taken in western North Carolina. David B.
---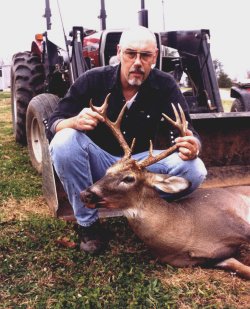 I scored again!! Another 8 pointer, this one taken on the morning after Thanksgiving, 2001 at about 80 yards with a .30-.30 from the same stand as last year's 8 pointer that is also posted on your website. David B.
---
Please Visit The